EXPERIENCE THE FEEL of truly pure, botanical food-for-your-skin!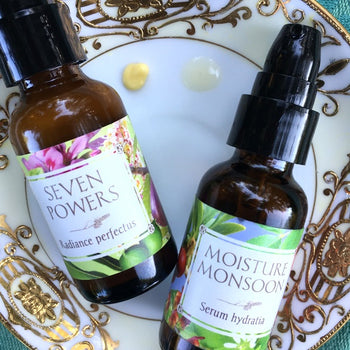 SEVEN POWERS is our graceful aging serum & eye creme —MOISTURE MONSOON is for deep hydration.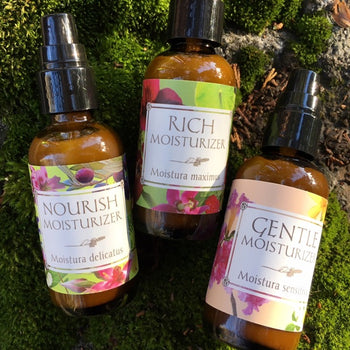 RICH is rich. . . NOURISH is lighter. . . GENTLE is for sensitive skin.
Soothe and smooth your skin and your spirits with MIDNIGHT OIL.
Customer responses to Grateful Body. . .
I love your products! My skin looks and feels fantastic, and I love that I know they are safe to put on my kids. Thank you!
Heather
Buffalo Mills, PA
In gratitude! For your wonderful products. I received my "Rich Moisturizer" and I just had to let you know how much I love it. • I especially love the fragrance! • I love the way you package your products. • I love your support system. • I love your website. • I love your videos. • I love your label art. • Mostly, I love your plant based ethics. I really trust you.
Betty
Costa Mesa, CA
I'm a dedicated GratefulBody girl (older girl that I may be, now!) and gratefully spread the good word as I can. Thanks for the integrity and quality of the products and the education that you offer. Forever grateful,
Rachael
Talent, OR
I have looked for about nine years now for a body wash/cleanser that is free from additives and ingredients that I do not want to put on my body, and never found it. Finally, I decided to use my Grateful Body Cleanser as a body wash. It works beautifully! The transition and effect for me has been beyond words. The Cleanser, followed by the Glad Heart body oil, or the Midnight Oil - is giving me a tranquil, healing, mood and energy-transforming experience at the beginning or the end of my day. For me, going through a moment of extreme stress, the combination of the two has assisted me to find peace and tranquility each day. Priceless...
Daphne
Conway, AR
Skin feel dry? Here's how to keep your complexion happily hydrated this winter!
the transformational process
from fresh herbs to fine skin care